Cricket is a game of skills, precision, and temperament, not only physical prowess. It requires a player to have solid technique, patience, and the ability to make the right decisions at the right time. While talent can take a player to great heights, it is maturity and composure that sets a good player apart from a great one. Match awareness, shot selection, and the ability to value one's wicket are crucial aspects of a batter's game.
Rahmanullah Gurbaz, the young Afghan cricketer, known for his explosive batting style and versatility, has been making waves in various cricket leagues around the world. (Shrivastava, I. 2023, April 1). However, despite his talent and potential, Gurbaz has often been criticized for his impatient approach, particularly in terms of shot selection and decision making, resulting in frequent dismissals and not fully realizing his potential.
Born on November 28, 2001, in Khost, Afghanistan, Rahmanullah Gurbaz rose to prominence as a talented wicketkeeper-batter in domestic cricket at early age. He made his international debut for Afghanistan in September 2019 against Zimbabwe at Mirpur, and soon became a regular member of the national team in limited-overs formats. (ESPNcricinfo, 2023). Gurbaz is the first Afghan batter to score a ton on his ODI debut against Ireland in the first of their three-match series in Abu Dhabi. (Bhatnagar, R. 2021, January 21). He is known for his aggressive batting style, with a wide range of shots in his arsenal, including powerful strokes, delicate touches, and inventive shot-making. Gurbaz has been particularly effective in the shortest format of the game, T20 cricket, where he has impressed with his ability to score quickly and take on the opposition bowlers.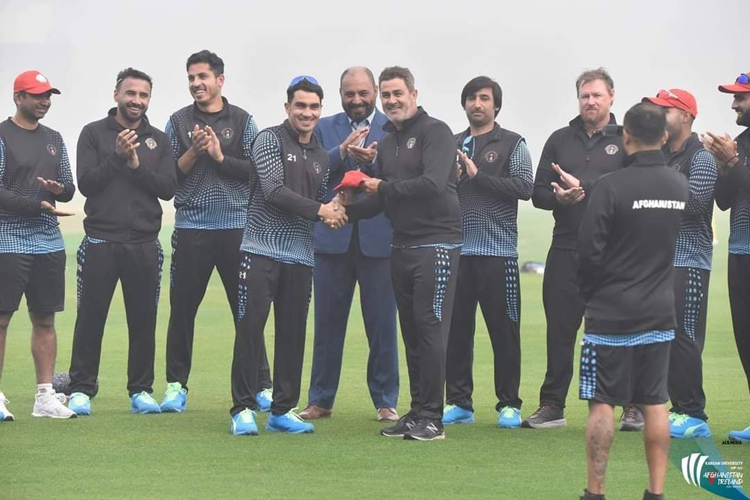 Gurbaz's talent and potential were recognized by various cricket franchises around the world, and he has been a sought-after player in various T20 leagues, including the Indian Premier League (IPL), Big Bash League (BBL), and Caribbean Premier League (CPL), among others. In 2022, he was signed by the Gujrat Titans (GT), and in 2023 he plays for Kolkata Knight Riders (KKR) in the IPL, one of the most prestigious T20 leagues in the world, which will further boost his profile as a promising talent.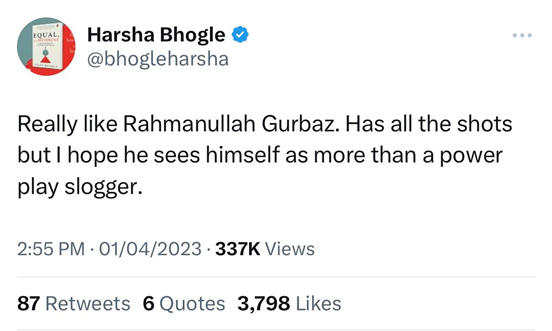 One of the glaring issues in his batting has been his impulsive shot selection, where he has often been dismissed by playing reckless shots, without properly assessing the situation and the quality of the delivery. Instead of respecting good deliveries and building an innings, Gurbaz has been prone to playing extravagant shots, often resulting in his downfall. This has led to concerns about his lack of temperament and composure, which are crucial aspects of a successful batter name, especially at the international level and in top-tier T20 leagues.
One of the primary criticisms leveled against Gurbaz is his lack of patience and shot selection. Despite being a naturally aggressive player, he often gets out to rash shots, particularly when the team is under pressure. Instead of playing sensibly and building his innings, Gurbaz has been known to go for extravagant shots early in his innings, only to perish without making a substantial contribution to the team's total. This impulsive approach has cost him his wicket on numerous occasions, and it has been a frustrating sight for fans, who recognize his immense talent but are disappointed by his inability to convert starts into big scores.
However, on the other hand, Gurbaz's aggressive approach can also be his downfall. His impulsive shot-making can lead to his downfall, especially when he fails to assess the match situation and the condition of the pitch and the quality of the opposition bowlers. Instead of playing responsible innings and building partnerships, Gurbaz often tends to go for glory shots without considering the risks involved. This lack of composure in shot selection has resulted in many promising innings coming to an abrupt end, leaving fans frustrated.
It is essential for Gurbaz to realize that talent alone is not enough to succeed at the highest level of the game. Along with skill, it requires discipline, patience, and a mature approach to make the most of one's abilities. Gurbaz needs to understand the importance of playing according to the situation and respecting the bowler's skill. He must learn to temper his natural aggression with responsibility and play calculated innings that contribute to the team's cause.
One area where Gurbaz can improve is his shot selection. He needs to develop better judgment in picking the right balls to attack and the ones to defend or leave. It is important for him to understand the match situation, the condition of the pitch, and the quality of the opposition bowlers before attempting big shots. By playing with more control and restraint, Gurbaz can minimize the risks of getting out to rash shots and can convert his starts into substantial innings.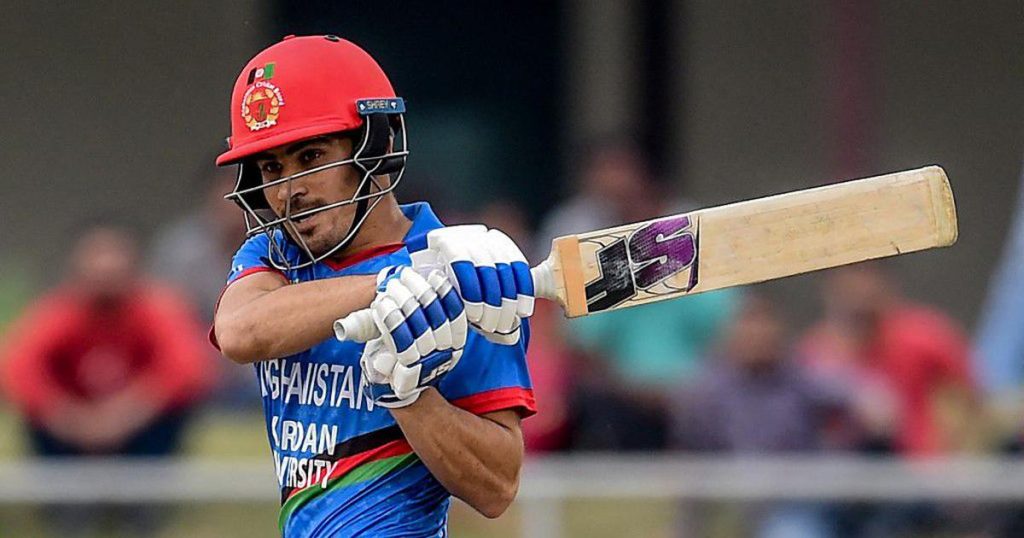 Another aspect that Gurbaz needs to work on is his decision-making under pressure. He must learn to keep a calm head and make wise choices when the game is on the line. Instead of succumbing to pressure and going for reckless shots, he should focus on playing calculated innings and building partnerships with his teammates. He needs to understand that sometimes taking singles or rotating the strike can be as valuable as hitting boundaries, especially in tight situations.
In conclusion, while Rahmanullah Gurbaz is undoubtedly a talented batter with immense potential, but to overcome above mentioned challenges, he needs to work on various aspects of his game, including his batting intent, approach, mindset, and decision-making under pressure, technique against fast bowling, consistency, and game awareness. It is crucial for him to learn from his mistakes, adapt his game, and strive for continuous improvement to establish himself as a top-tier batter in international cricket. The cricketing world eagerly awaits the transformation of this talented young batter into a more complete and reliable cricketer.