Cricket has been played in Afghanistan since the arrival of the British in the 19th century, however it wasn't until the 1980s, after the outbreak of war with the Soviet Union, that the game really took grip. During Soviet Union war in Afghanistan, hundreds of thousands of young Afghans fled into Pakistan, where they were introduced to the game while in refugee camps along the country's border. Passion for the game quickly spread, both in the camps and beyond.
Afghanistan cricket rose from the ashes of war, brought back by refugees, who had learnt to play in camps in Pakistan, using laundry sticks as makeshift bats and covering tennis balls with gaffer tape. The only game permitted by the Taliban, cricket has become Afghanistan's fastest growing sport. In 1995, no one in Afghanistan knew what cricket was but by 2015, the national team was at the World Cup.  However, the first national trials were held in 2003. When they were invited to their first international tournament and in 2004, many players didn't even have passports. Luckily, in 20 years Afghanistan's cricketers had achieved what other teams take 50 years to do.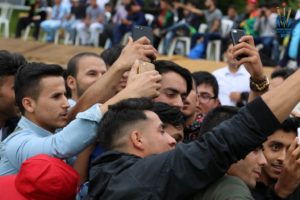 Most of cricketers avoid talking about their struggles in the refugee camps but instead they want to talk about cricket, especially the historic Test match. Yet, every time they go on to the field, they remind themselves of the difficult lives back home and vow to give their fellow Afghans reason to celebrate.
Over the last few years, the Afghanistan cricket team has gone from strength to strength. In 2013, they qualified for the 2015 ODI World Cup in Australia. It was in 2015 that they won their first-ever series against a full member Zimbabwe and a year later, they beat the eventual champions, the West Indies, in the World T20. Over the last few years, their progress has been nothing short of meteoric: not only have they beaten Zimbabwe and Ireland, but they have also recorded a win against the West Indies on Caribbean shores; and they have whitewashed Bangladesh.
Awarded full member status alongside Ireland in June last year, Afghanistan is from today the world's 12th Test-playing nation. Also, Afghanistan launched its very own T20 league, Afghanistan Premier League which will help to produce more world-class players and at a much faster pace.
Cricket has played a part in changing the country's fortunes and has caught the public imagination because of the rise of the national team. It is giving people lot of happiness and pride. Domestic game is also getting better as it has produced a lot of good players such as Rashid Khan and Mujeeb Ur Rahman.  They would not have emerged if there was a poor domestic structure. Both Rashid and Mujeeb have been performing exceptionally well and aspiring cricketers to look up to. And there are so many other talented youngsters who are waiting for a chance.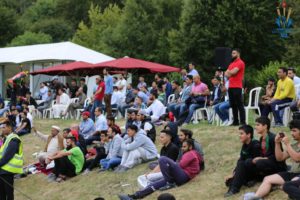 Of all the success stories created by Afghanistan's extraordinary rise, none is more striking than that of Rashid Khan, a leg spinner who may be the most famous Afghan alive. Sides across the globe compete aggressively for his services; this year he became the youngest man ever to be ranked best bowler in the world. In a country where not long ago the mere act of playing cricket was taboo, Rashid Khan is the face of hope.
This unifying power of cricket is being used to transcend not just divisions as deep as the Taliban and the government the militants consider illegitimate, but also rivalries rooted in ethnic, tribal or clan differences. When the team had its crucial World Cup qualifier match, Pashtuns, Hazaras, Uzbeks and Tajiks were all out on the streets dancing in celebration.