After attaining Test status in June 2017, Afghanistan Cricket Board (ACB), has been continuously adding to its list of milestones and achievements. None comes better than its recent launch of its very own domestic T20 tournament, Afghanistan Premier League (APL).  Early part of August saw its approval by the International Cricket Council (ICC) and the tournament was held in United Arab Emirates (UAE) between 5 and 21 October 2018. Five teams from different regions of Afghanistan competed against each other, with up to 40 overseas players, including cricketing stars: Chris Gayle, Brendon McCullum, Shahid Afridi and many others. The tournament founded Balkh Legends, led by Mohammad Nabi, as the winners of its first-ever edition.
So, how successful has this new venture been? And how does this success differ to that of other major domestic T20 tournaments? What are the future prospects of APL? These are some of the questions this article will aim to cover.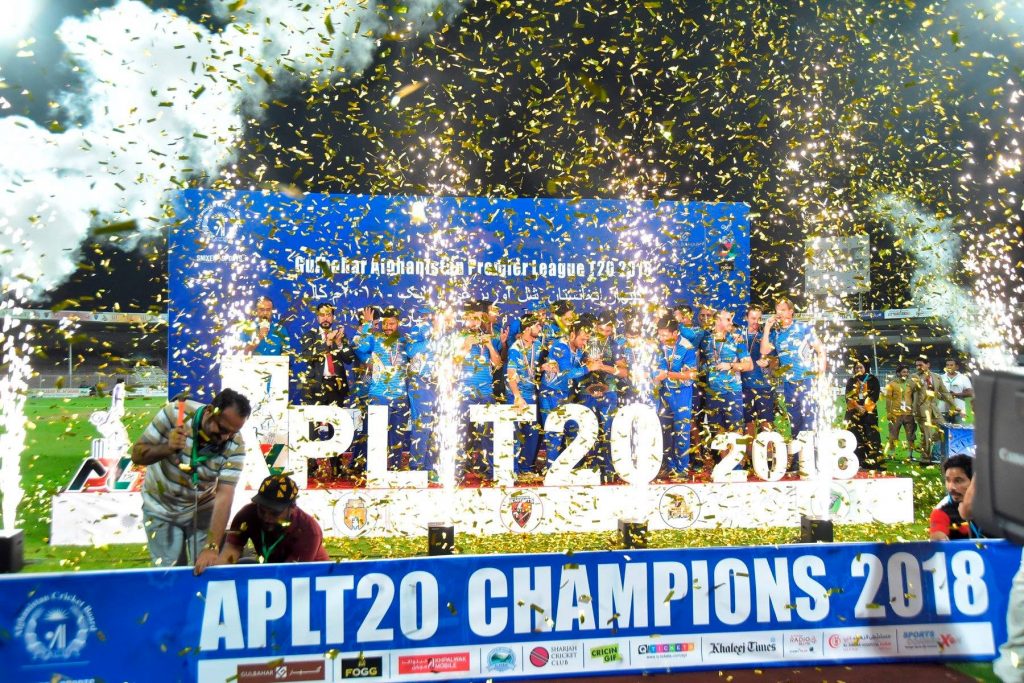 Champions—Balkh Legends celebrating their victory over Kabul Zwanan  Photo credits: Balkh Legends
Success stories from first edition of APL?
First edition of APL displayed blistering innings from Mohammad Shahzad, Hazratullah Zazai and Chris Gayle. Hazratullah Zazai smashed away 6 sixes in an over, matching Yuvraj Singh's record and became joint fastest to fifty landmark with 12 balls, which was previously held by Yuvraj and Chris Gayle. In the bowling arena, Isuru Tillakaratna, Sayed Shirzad and Qais Ahmed showcased their talent.
This edition of APL presented a great opportunity for emerging players to showcase their talent on a big stage, share dressing rooms with international players and build long-lasting experiences that will definitely shape their careers. APL has provided International exposure to players like Qais Ahmed, which has played a vital role in their selection into other major T20 leagues, such as IPL, BPL, and CPL.
APL has already generated a boost in love for the game of cricket in Afghanistan. With growing viewership and popularity of the tournament, APL will stimulate an abundance of economic activity across the country; creating jobs, joy and a message of peace that will resonate with the entire nation.
Differences with other major domestic T20 tournaments?
First edition of APL just like the playing stages of the third edition of Pakistan Super League (PSL) was hosted in UAE. Although the final stages of APL attracted decent-sized crowds, playing stages lagged. This was expected for the first edition of APL as it was for the first edition of PSL. As APL matures, it will attract healthier crowds, which will further stimulate its growth as a domestic T20 tournament.
In contrast, other major T20 tournaments to name a few, IPL, CPL and BPL are hosted in their respective home countries, which allows them to attract houseful crowds. Of all the tournaments, IPL attracts the biggest of crowds and is partly why the India-based tournament has seen its valuation grow so fast since its inception, with a value of $6.3 billion in 2018, according to Duff & Phelps. Similarly, BPL also enjoys growing returns through sponsorship and broadcasting rights.
Future outlook for APL?
It has happened with every domestic T20 tournament that the journey from its launch has yielded a plethora of positives. Tournaments have: grown in value, attracted bigger and bigger crowds, blossomed new economic activities, created players and the list goes on.
APL is expected to undergo a similar transition from its first edition to its subsequent tournaments. However, to encourage its fan base, it must demonstrate ingenuity as the tournament matures. Although it's quite early in the process, it must devise plans for bringing final stages of the tournament home, in the next 2-3 editions. This will certainly create a positive vibe in the streets of Kabul and will almost certainly attract people from rural areas of Afghanistan.
Inception of APL marks ACB's latest step in advancing cricket in Afghanistan. ACB has consistently manifested its dedication towards increasing Afghanistan's presence in world cricket. As a nation, Afghanistan supports their endeavours and efforts. It's this unity that will once again drive this successful venture in the form of APL.